Regular price
$17.99 USD
Sale price
$12.99 USD
Unit price
per
Sale
Sold out
🏷️ Purchase the Audiobook Bundle
🔗 Receive download links from Bookfunnel
🎧 Send to your preferred device and ENJOY!
❤️ Any problems, just shoot me a text at Jodi@Jodi-Burnett.com
View full details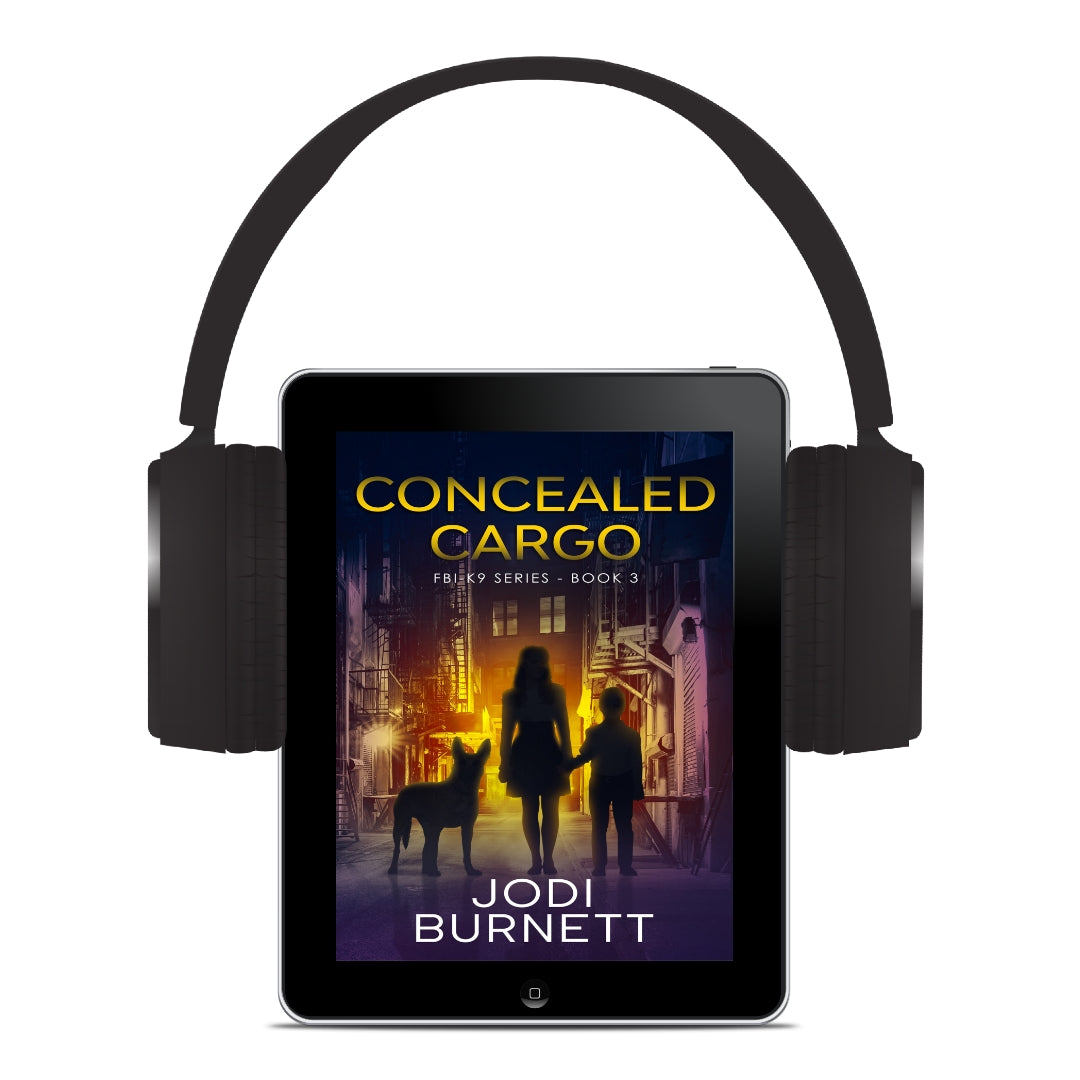 The FBI - K9 Series - Audiobook Bundle

Don't miss out on edge of your seat suspense when crime and murder face off with the Mile High City's elite FBI K9 team.

From serial killers to sex crimes and bombings, this top-notch unit attacks crime in their relentless pursuit of justice.

Experience the thrill and depth of human - K9 connection in this riveting series.

Check out this thrilling series!
More from the FBI K9 Series
FBI K9 Series Audiobooks
Avenging Adam - FBI K9 Series Book1

Sparks fly between hotshot FBI Agent Rick Sanchez and no-holds-barred, FBI-K9 Handler Kendra Dean, as they race to stop a serial killer.

While hiking in the foothills of the Rocky Mountains, FBI Special Agent Kendra Dean and her K9 partner, Baxter, stumble upon a dead body stashed in the woods. The discovery changes both of their lives forever. Special Agent Rick Sanchez hunts a serial murderer who is targeting women on a multi-state killing spree. Kendra Dean, an agent Rick met on a joint mission six months ago, has found the most recent victim. Rick and Kendra once shared a tempting chemistry but time and miles made their spark a distant memory.

Now, thrust together to solve a deadly case, Rick and Kendra rekindle their attraction only to find their personal demons are even greater obstacles than their geography. It's hard for Kendra to see around the chip she carries on her shoulder as she works to prove herself in a man's world. Rick harbors a debilitating guilt over a past failure that holds his heart prisoner and he's terrified to love again.

The serial killer sets his sights on Kendra. With her life in the balance, she and Rick must deal with their issues. Will they be able to admit their feelings and embrace their growing intimacy before it's too late?

Get your copy today!

Buy Audio Collection Now!

Body Count - FBI K9 Series Book 2

Abducted and hidden away deep in the Rocky Mountains, Susan Bell is frantic to escape her murderous captor.

Freshman Special Agent Burke Cameron is straight laced, traditionally minded, and comes with a hefty set of old-fashioned values. Burke doesn't know what to do with the free spirited, progressive woman he's falling for. He and Susan don't want any of the same things and he knows he should move on, but he can't seem to resist her.

Burke and Susan's world views are polar opposites and a lasting future together is impossible to imagine. But when a group of six women, including Susan, goes missing in the Colorado Rockies, their differences fall away, and all that matters to Burke is finding her. He enlists the help of his friend, Agent Kendra Dean and her FBI-K9 partner, Annie. As soon as they are on the trail, they realize they're not simply searching for lost women—they are tracking a killer. They discover one body after another. Desperate to rescue Susan, Burke prays that the next body they find isn't hers.

If you like thrilling suspense, then you'll love Body Count.

Buy your copy today!

Concealed Cargo - FBI K9 Series Book 3

When Special Agent Clay Jennings and his K9 partner, Ranger, take to the streets of Denver to fight human trafficking, he is shocked by the inordinate number of stolen innocents who've been forced into the sex trade. With each new face, his resolve to help these children escape their personal horror grows stronger.

El Clark, a social worker who dedicates her life to rescuing exploited kids from the streets, works valiantly to locate their families or find them a safe place to live while they recuperate. She understands the plight of these young victims more than anyone knows.When these two champions of enslaved children team up, they discover a web of deviant corruption that reaches into the upper echelons of US politics and society. Adding to the nightmare, a vicious serial killer focused on murdering female prostitutes threatens to pull Clay and El away from unearthing the man behind the treacherous, Colorado-based, child prostitution ring.For Clay, working to solve these crimes is like taking one step forward and three back until El shares her story with him. Inspired by her bravery and fortitude, he is re-committed to the fight for justice.

Clay and El battle against a mountain power and money the height of which they'd never conceived and end up building a strong bond with one another along the way. El teaches Clay that every life they change matters—that they must do what they can, even when it's only one child at a time.

Get your copy now!

Mile High Mayhem - FBI K9 Series Book 4

FBI Agent Logan Reed specializes in explosives. He can track and defuses almost any incendiary device…

Except for the one buried deep inside his soul.

Home from Afghanistan now for two years, Logan has secured the perfect assignment on the FBI-K9 Bomb Squad in Denver. His new partner, a Belgian Malinois named Gunner, is an expertly trained bomb-sniffing dog. He's everything a handler could hope for, except he's not Lobo.

Agent Addison Thorne, a Bomb Technician at the top of her game, doesn't trust the new guy. He's too quiet and never goes out with the crew for a beer after work. There's just something about him that makes her nervous, and nerves aren't what a bomb-tech likes to feel.

Tasked with finding a bomber on the loose in the Mile-high city, the explosives team must figure out who is planting the bombs and why before the civilian casualties skyrocket. Will they find all the bombs before panic ensues and they are forced to evacuate the capital?

When Reed finds himself in a situation mirroring his painful past, he locks up. Will Thorne be able to snap him back to the present before it's too late? Can he hold it together or will he fail once again?

Either way, his own life and that of Thorne and Gunner could come to a fiery end.

If you love explosive action thrillers, you will love Mile High Mayhem. Order your copy today!